Product Description


Automatic Pet Glass Bottle Liquid Pure Drinking Mineral Water Bottling Machine / Carbonated Flavored Soft Drink Juice Filling Labeling Packing Plant
*We supply complete solution for the water filling plant ,including Water treatment system / Washing filling capping machine / Code sprayer / Automatic labeling machine / Automatic packing machine / Automatic Palletizer system
Technical parameter :Drinking water filling machine
Model
CGF8-8-3
CGF14-12-4
CGF18-18-6
CGF24-24-6
CGF32-32-8
CGF40-40-10
Capacity(for 500ml)
2000
3000-4000
6000-8000
8000-12000
13000-15000
16000-18000
Suitable bottle shapes
PET circular or square
Bottle diameter(mm)
Dia50-Dia115mm
Bottle height (mm)
160-320mm
Compressor air
0.3-0.7Mpa
Washing meidium
Aseptic water
Rinsing pressure
>0.06Mpa <0.2Mpa
Application
Drinking water filling machine
Total power (KW)
4.4kw
4.4kw
4.4kw
5.2kw
6.2kw
7.8kw
Overall dimensions
2.3*1.9m
2.5*1.9m
2.8*2.15m
3.1*2.5m
3.8*2.8m
4.5*3.3m
Height
2.3m
2.5m
2.5m
2.5m
2.5m
2.6m
Weight(kg)
2500kg
3200kg
4000kg
4500kg
6500kg
8000kg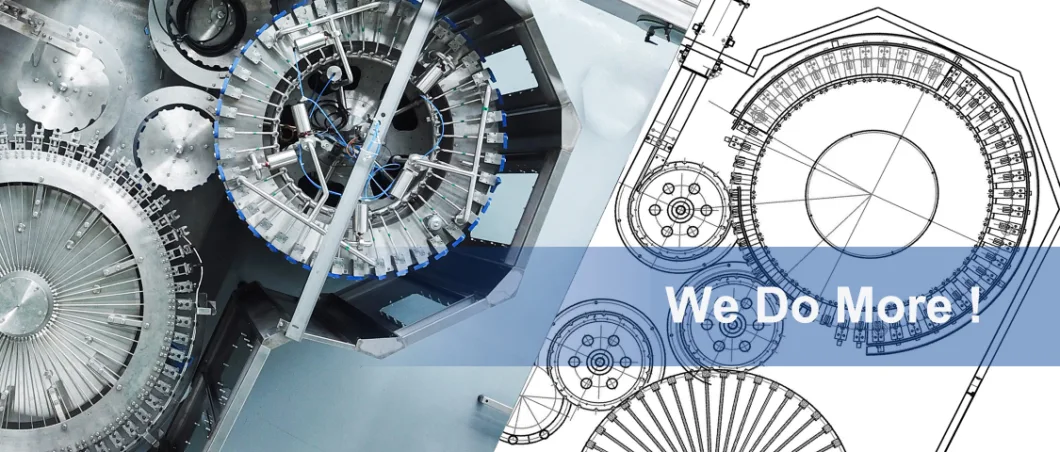 Different filling capacities for choice
8-8-3 Bottle Water Filling Line Capacity:1000-2000 bottles per hour.
14-12-5 Bottle Water Filling Line Capacity:2000-3000 bottles per hour.
16-12-6 Bottle Water Filling Line Capacity:4000-6000 bottles per hour.
18-18-6 Bottle Water Filling Line Capacity:6000-8000 bottles per hour.
24-24-8 Bottle Water Filling Line Capacity:10000-12000 bottles per hour.
32-32-10 Bottle Water Filling Line Capacity:12000-15000 bottles per hour.
40-40-12 Bottle Water Filling Line Capacity:20000-24000 bottles per hour

Details description: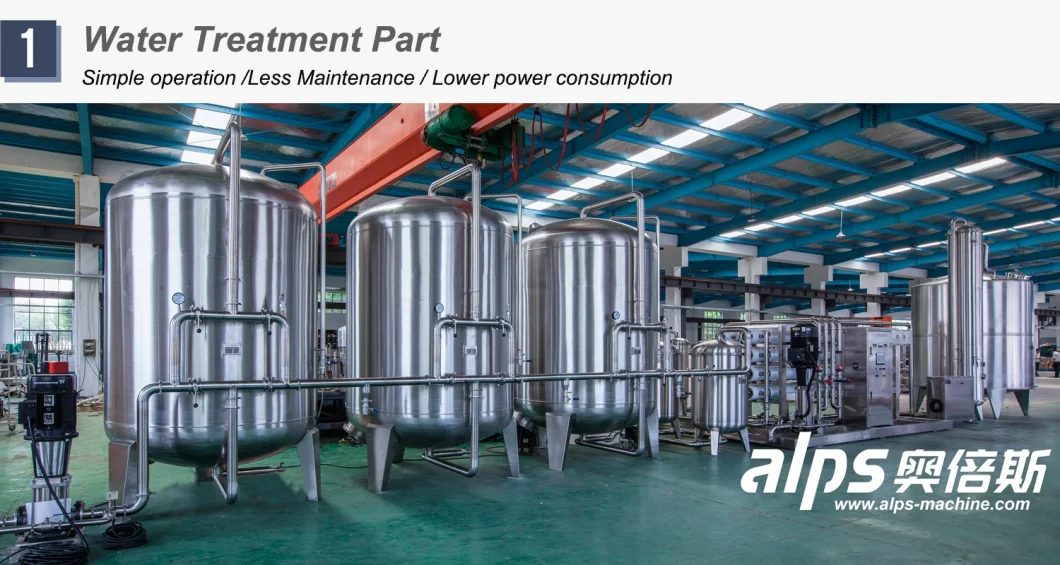 According to customer's water source analysis report and the final water standard required ,we will suggest customer to choose the suitable water treatment plants.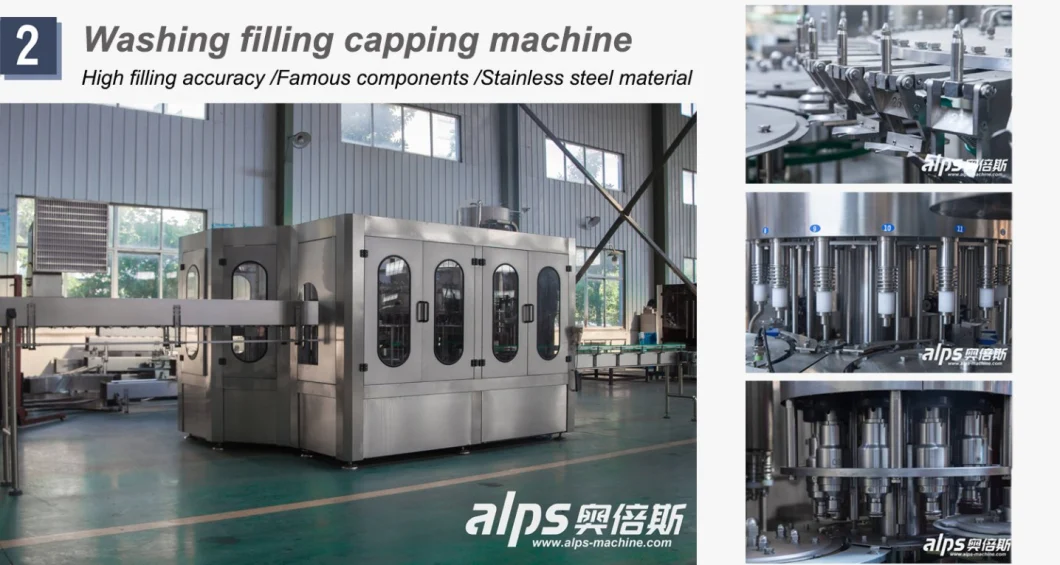 Main Features
*Using the wind sent access and move wheel in the bottle directly connected technology; canceled screw and conveyor chains, this enable the change the bottle-shaped become easier.
* Bottles transmission adopt clip bottleneck technology, bottle-shaped transform not need to adjust the equipment level, only change related the curved plate, wheel and nylon parts is enough..
* The specially designed stainless steel bottle washing machine clip is solid and durable, no touch with the screw location of bottle mouth to avoid secondary pollution.
*High-speed large gravity flow valve filling valve, filling fast, filling accurate and no liquid lose.
*Spiraling decline when output bottle, transform bottle shape no need to adjust the height of conveyor chains.
*Host adopt advanced PLC automatic control technology, the key electrical components from famous company such as Japan's Mitsubishi, France Schneider, OMRON.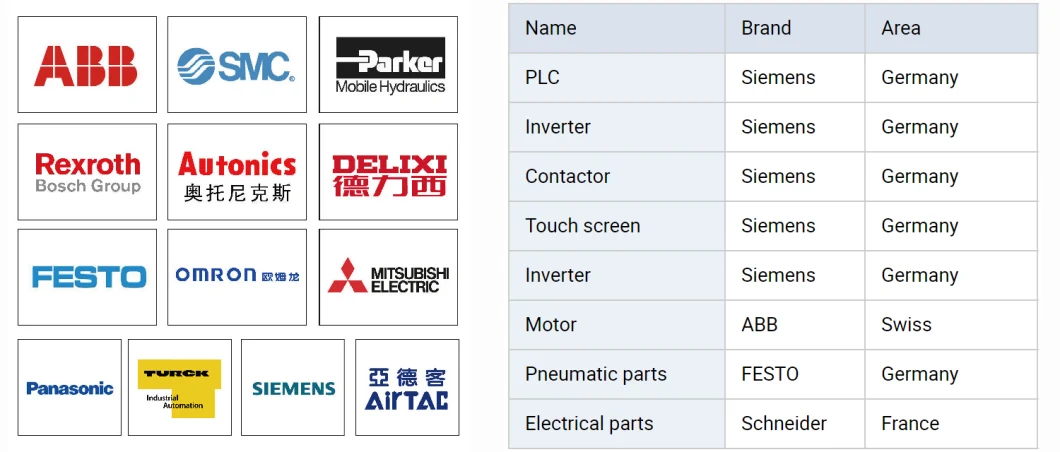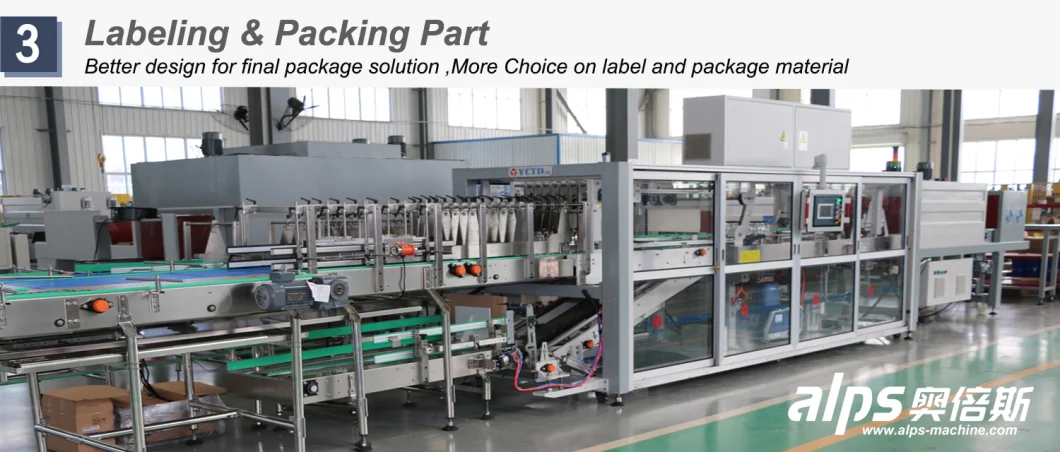 As customer request and market demand ,we provide the better solution for the final product package ,
We have various kinds of options .Labeling machine have the PVC sleeve label ,BOPP hot glue label,Adhesive stick label ,Wet glue label ,and packing machine have the film shrink machine and carton box package.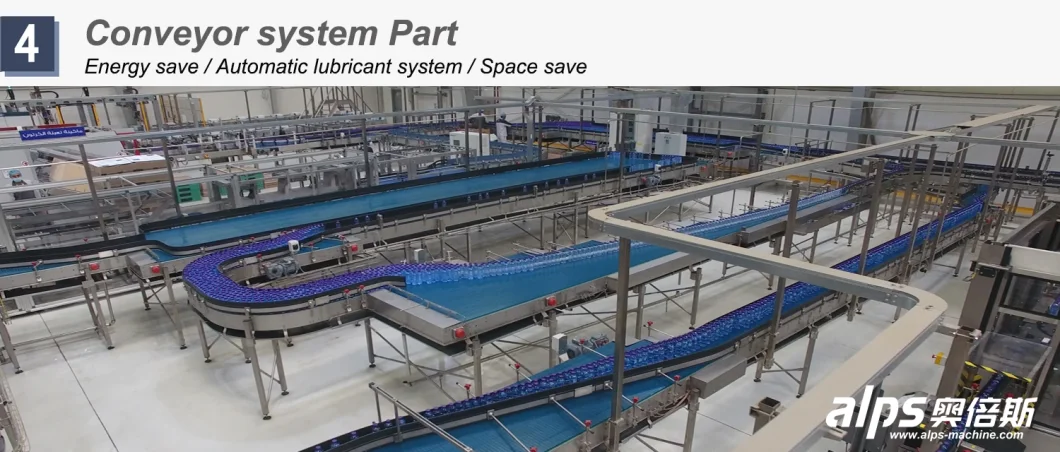 We design the factory layout based on customer factory sizes,whole line design is based on famous brand motors and automatic lubricant system ,and with less power consumption ,and save space .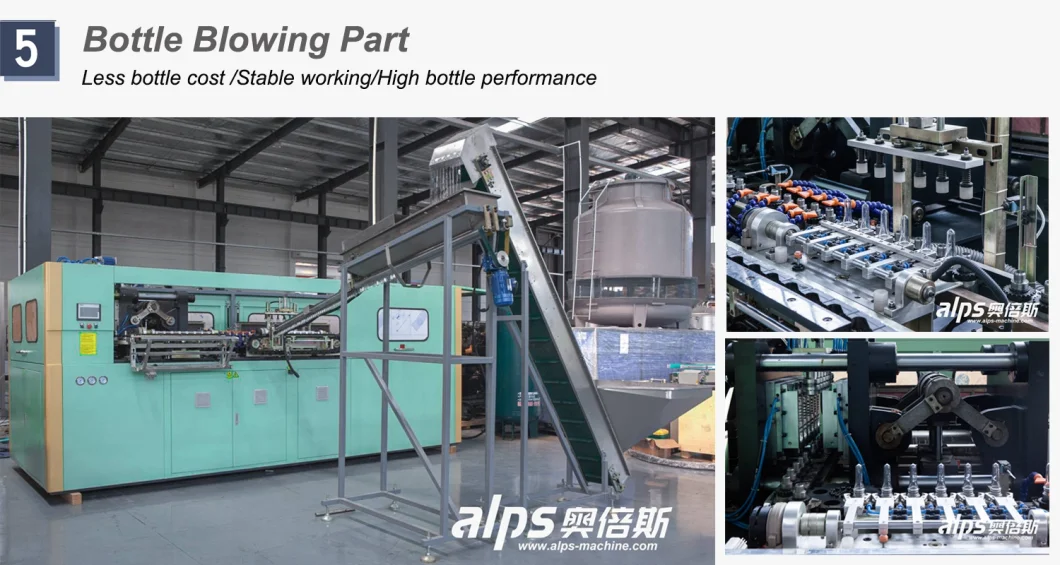 This machine is a fully automatic, high intelligent, stable and reliable blowing machine, with simple structure, and low energy consumption. It is very popular and well used in food, beverages, cosmetics, pharmaceutical industry.
Turnkey Project solution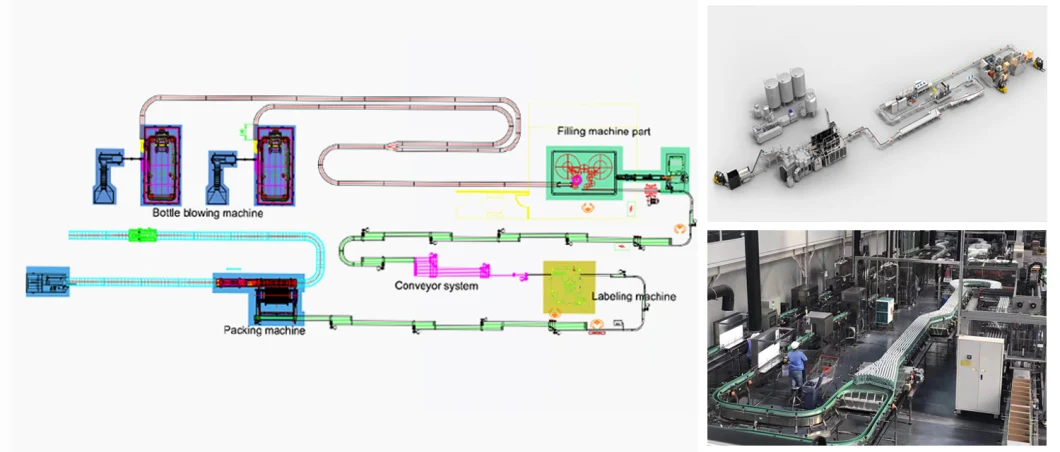 Leadership in quality and technology from raw material to bottled liquid to selling products - Alps Co.,Ltd,
A-Z turnkey plant supplier, is known for developing innovative high-end products and new technologies.
Company introduction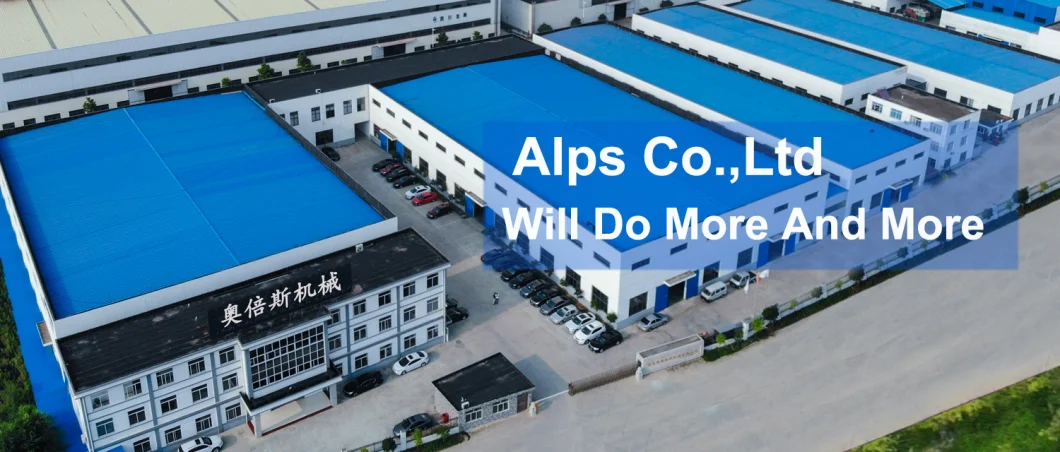 Alps Machine Co.,Ltd is ...
*Standardized workshop of total 12,000 square meters.
Different types of processing units, such as water jet cutter, plasma cutter, laser cutter, CNC machine from Taiwan chevalier & korea daewoo, ensure the precision of parts.
*International certification, National Certificate of equipment verification, and more than 30 invention patents
Verification Certificates of equipments: ISO9001:2001; CE Certificate , SGS , COC , TUV
National Certificate of equipment verification:standard organisation of Nigeria , CNCA certificate, Logo trademark registration, etc.
*The equipment will be tested and run for 24 hours before leaving the factory, to ensure the smooth working of water pipeline, and pneumatic, electrical and mechanical stability.
*Sufficient stock of spare parts ensures the timely delivery and supply of spare parts.
*The engineers are experienced. We can produce different products with different capacity and work out reasonable flow chart as per customers' requirements to save space.
*Professional installation team who can speak fluent English can help customers make benefits in a shortest time.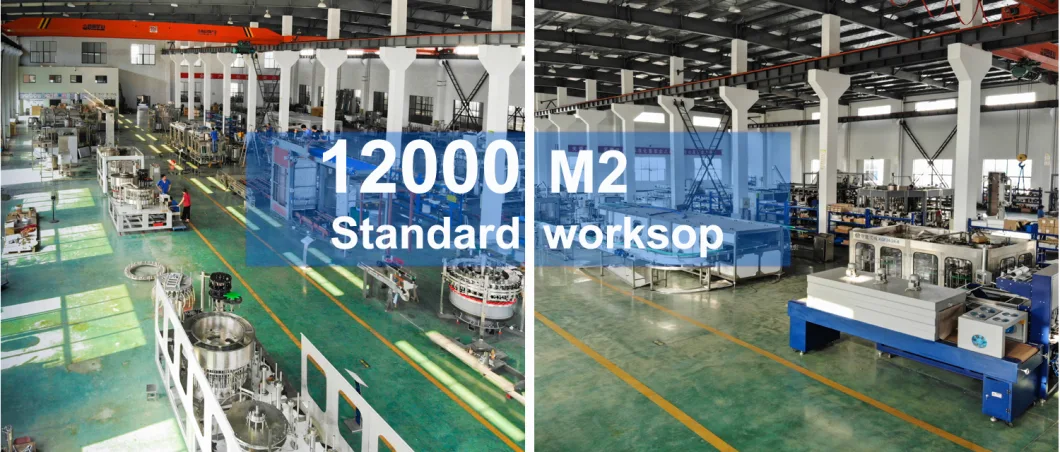 Certification
Our compnay complies with ISO9001:2000 Internation quality management system,also carries out the modern enterprises management systme ,to executes quality control during the processes of producing ,wins customer' recognition by the high quality products and services.